Corona virus has been difficult not just for teachers and students but for parents. They aren't used to the homeschool aspect of remote teaching and it is a challenge to balance the needs of all of their children as well as their own personal circumstances. Here are thoughtful suggestions on how to make that work from Ask a Tech Teacher contributor, Emily, from over at My Tech Classroom. Her website is filled with innovative ideas on blending tech into education. Today, she's focused her considerable experience on how parents and teachers can support remote teaching. You'll enjoy this: 
***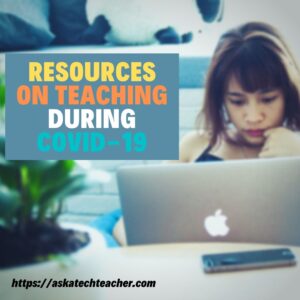 With millions of children out of school and trying to adjust to online classes from home, there is a big challenge for parents and teachers. The first thing parents need to arrange is online access. Not all families have computers at home and not all children are tech-savvy. Fortunately, most people have smartphones, and it is possible to access online teaching platforms from a phone.
If your child's school is giving online classes, they will be live group classes and lectures as well as recorded material that your child can view later. This is very important for parents who have more than one child needing online teaching. The family can choose the time a child accesses her lessons.
The organization of computer use timings is important if the parents need the computer for their work at certain hours of the day. Since we don't know how long online classes will be required, it's important to invest in an upgrade of your technology, so you and your child can keep up.
During the lockdown, children may become tense and nervous about their schooling. After all, they need to learn new skills on the computer and do their work by themselves. Parents can help their children to relax and take it one step at a time.
Teachers will do their best to inform the parents about their aims and goals for online teaching as well as give a schedule for classes. This information will be posted on the learning platform such as Microsoft Teams, where you can see it. It may also be sent in easily accessible formats such as texts that make it easier for parents to stay connected to the teacher.
Make Sure Your Child Gets Facetime
Teachers are doing their best to give facetime to all of their students, but sometimes this isn't possible. If the child has to babysit a younger sibling, or the Internet goes out or any other reason the student can't get on the facetime part of the lesson parents need to know. All the experts recommend at least some time every week when the student can talk directly to the teacher. This helps develop security and reduce anxiety in the child. This article gives you a clear example of what to expect from the teacher.