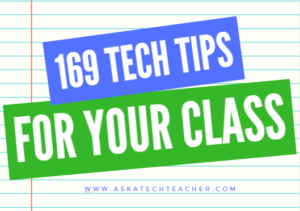 In these 169 tech-centric situations, you get an overview of pedagogy—the tech topics most important to your teaching—as well as practical strategies to address most classroom tech situations, how to scaffold these to learning, and where they provide the subtext to daily tech-infused education.
Today's tip: Quickly Switch Between Windows
Category: Internet
Q: I have a lot of programs open but right now, I'm working only between two of them. It takes a lot of time to click down to the taskbar and find the correct doc. Is there an easier way?
A: Oh yes, Much easier. Use Alt+Tab. That takes you to the last window you visited. If you're toggling between two windows, this is the perfect solution. I use it a lot for report cards.
Sign up for a new tip each week or buy the entire 169 Real-world Ways to Put Tech into Your Classroom.