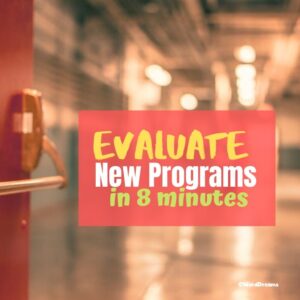 Ready or not, it's time to go back to school. If you're like me, you spent the summer attending webinars, seminars, and conferences. You chatted with colleagues on Twitter and Facebook about learning tools they loved. You collected a long list of highly-recommended resources that you can't wait to try in your classroom. But that list could take hours to preview. Each. And many will turn out to be a waste of time. How do you find the best of the bunch without running through all of your free time?
Maybe because I'm a technology teacher, I can usually sort through this list pretty quickly. I don't have a crystal ball that tells me what I'll like, what will engage my students, or what will be more trouble than it's worth. Instead, I have checklists. Two of them. The first evaluates the big picture. Programs that make the cut move to the second checklist where I judge usefulness in my particular circumstances. In the end, I've eliminated everything that wastes time, is confusing, and/or doesn't fit my needs.
This two-step process doesn't assure that once I try the program in a real classroom, it'll perform as promised. Nor does it guarantee the program will survive the onslaught of student use. What it does is help me to waste as little of my time as possible while finding the best fit for my unique situation.
Step One: Qualify (Two Minutes)
I won't even open the app unless it passes these three questions: